A surgeon has performed a world-first surgical technique using a groundbreaking biodegradable 3D implant to help a man regenerate half of his jaw lost to cancer.
The part was designed by Australian-Singaporean company Osteopore, and was implanted into the patient, Australian John Manwaring, by surgeon Michael Wagels.
Regeneration
The patient had originally had his jaw reconstructed using a part of a bone in his leg, but the bone disintegrated following further cancer treatment. The new technique involved printing the implant, and wrapping it in a shaving of the lining of the bone. The bone then regenerates inside the scaffolding of the implant.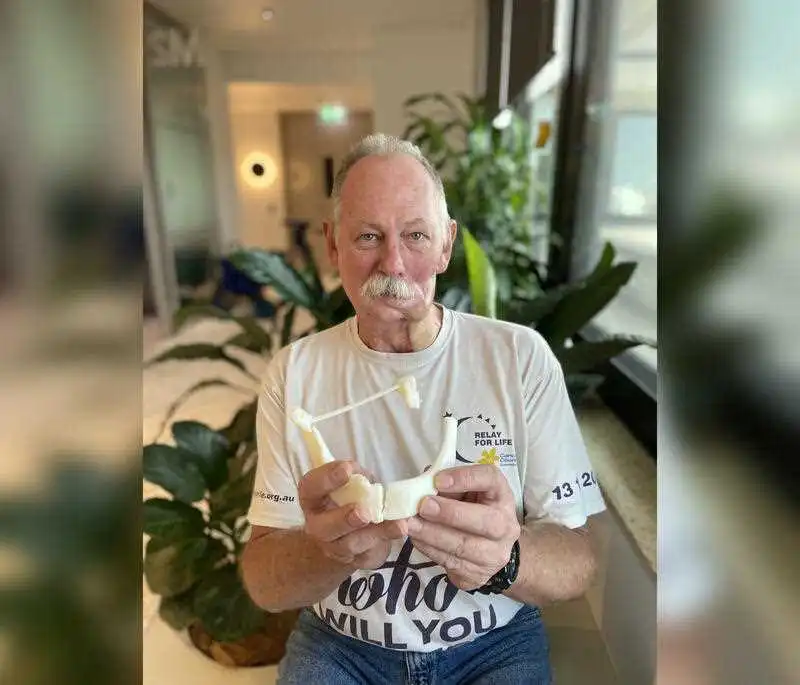 Over the next two years, the implant will slowly be absorbed into the body, leaving a nice new jawbone for the patient. Not having to perform a second surgery to harvest bone to be used as an implant reduces the overall risk to the patient. If everything happens as it should and the implant dissolves, the risk to the patient is reduced again.
"Because of the way we 3D printed the implant, it has the propensity to enable tissue and vessels to grow into it, not just around it, but through the entire volume of the scaffold," said Dr Jing Lim of Osteopore.
"That is really down to the porous structure that we incorporated during the printing process, and the understanding of what sorts of materials would be best suited to facilitate this regeneration."
Hope for the Patient
The breakthrough is directing and supporting the growth of regenerated bone into the scaffolds of the implant, so it's not just bone cells but also blood vessels that regenerate to keep the cells alive.
"It surprised me that this can be done so close to home, not America, and it's fantastic that this is available," said Mainwaring.
"It feels good to know that this technology can help someone else."
Indeed. And if all goes well, the patient should be able to eat, speak and breathe more easily, as well as gain more confidence about his appearance, which ostensibly had suffered in light of his original condition.
Come and let us know your thoughts on our Facebook, Twitter, and LinkedIn pages, and don't forget to sign up for our weekly additive manufacturing newsletter to get all the latest stories delivered right to your inbox.