It's a good week for printed cervical spinal implants it seems, because this is our second story this week about the US Food and Drug Administration (FDA) approving one. But unlike our last story, which featured a cervical implant printed in titanium, the one in today's article is made from PEEK plastic.
Read on for more information.
A First for PEEK
The FDA has granted 510(k) clearance to a 3D-printed PEEK implant, marking a significant milestone in the medical device industry. The Inspire Porous PEEK Cervical Interbody Fusion System is the first 3D-printed PEEK implant to be cleared by the FDA.
That's what it looks like, in the picture below.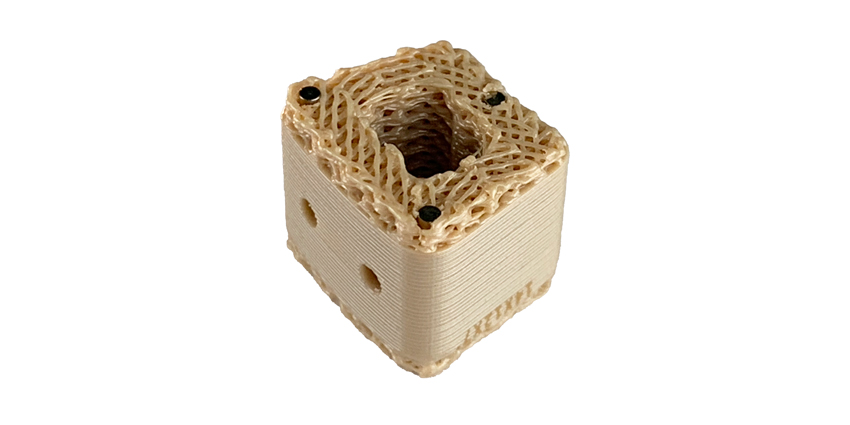 It is designed to help skeletally mature patients suffering from cervical disc degeneration, cervical spinal instability, and related pain at multiple contiguous levels from C2 – T1. The system includes HAFUSE technology and is manufactured using a proprietary, patented fused filament fabrication 3D printer designed, programmed, and built by Curiteva, Inc.
Porous
This additive process produces a fully interconnected and integrated porous structure that traverses the entire implant, promoting osseointegration, improving radiographic assessment, and delivering superior biomechanics. The combination of HAFUSE nanotechnology surface treatment and a novel porous PEEK structure creates a hydrophilic, bioactive environment for cell attachment, proliferation, and healing.
Eric Linder, Curiteva's co-founder, and CTO said that the FDA's approval represents a "massive paradigm shift of how PEEK implants may be manufactured in the future."
Come and let us know your thoughts on our Facebook, Twitter, and LinkedIn pages, and don't forget to sign up for our weekly additive manufacturing newsletter to get all the latest stories delivered right to your inbox.