FloSpine, a spinal implant medical device company based in the Research Park at Florida Atlantic University, has received 510(k) clearance from the Food and Drug Administration (FDA) for its Ti-Largo Cervical Interbody Cage System.
The system is designed to support the spine after a cervical collapse or damaged disc has been removed, and the implant is made from 3D printed titanium, with a patent-pending design that promotes bone ingrowth for strength, stability, and biologic fixation.
The company's goal is to apply new technology and design concepts to solve medical problems of the human spinal column and provide surgeons with products resulting in enhanced surgical outcomes, shorter hospital stays, and quicker recovery times, thereby reducing procedural and rehabilitative costs to the patient and insurer.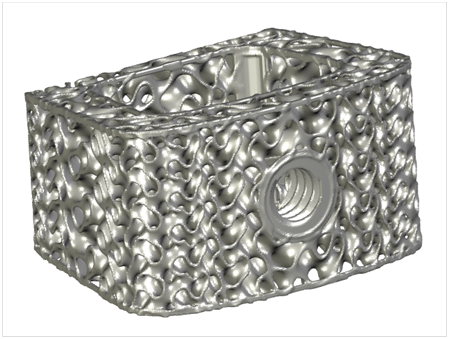 FloSpine's new clearance comes on the heels of the company's recognition by Global Ventures as a 2022 GrowFL Florida Companies to Watch honoree. The company has also participated in the Research Park at FAU's Global Ventures second-stage entrepreneurial support initiative, which has enabled it to access highly qualified and motivated graduate students from the FAU College of Engineering and Computer Science who have become full-time employees, access to specialized equipment at Florida Atlantic University, and connections to its research faculty.
"We are very pleased with the FDA clearance of the Ti-Largo System. 3D printing our spinal implants allows us to create various shapes and sizes to match the patient's anatomy more accurately", said Peter Harris, president and CEO of FloSpine.
The Ti-Largo Cervical Interbody Cage System adds to the existing portfolio of four products designed for complex spine disorders, including scoliosis and degenerative disc disease, all of which are named for locations in Florida, the company's home.
Come and let us know your thoughts on our Facebook, Twitter, and LinkedIn pages, and don't forget to sign up for our weekly additive manufacturing newsletter to get all the latest stories delivered right to your inbox.